How do we create space where our love and our grief can co-exist?How do we re-remember the practices and rituals that honor ourselves and our ancestors in times of sacred transition?How do we embrace the cycles of life and death in spite of the culture and chaos around us?
Turning Wheel is a practice in inviting these questions to take up space.
We find our way closer to the answers through ritual, intuition, listening, presence, and deeper connection to ourselves, each other, our ancestors, and the earth.
We find our way through practices of witnessing and being witnessed, through practices of loving and being loved.
I would be honored to support you in this work.
in love,
Maggie Thompson
MSW, Facilitator, Deathcare Educator, Celebrant
she / they
---
Click here to learn more about my offerings, or email for a free 30-minute consultation call.
---

Subscribe to the Turning Wheel newsletter

I can assist in a variety of ways in order to serve each client's needs. Below are some of the shapes our work together might take.
Education and facilitation
• individual and small group sessions
• support for your understanding of options, considerations, and resources around advance care and death careHolding space
• griefwork
• bereavement support
• deepening relationship with deathHonoring milestones and legacies
• creation of ceremony
• ritual work
• memorial and memory-keeping materials
---
Much of my support and education can be provided through online sessions and phone calls. I'm also available for in-person support in the Seattle area.Learn more about my sliding scale rate structure.
If you aren't sure exactly what you need or where to start, the best way to explore my services in greater detail is to email me for a free 30-minute consultation call.
---
I offer my services on a sliding scale and on a flat fee basis. What does this mean for you? The sliding scale means that you can choose from a range of hourly rates to best suit your financial circumstances. The flat fee means that once we decide on the support I'll provide to you, I'll calculate a set rate for those specific services so that you aren't left to wonder how much it will cost you in the end.I also offer consultations by the hour if you simply need support in making plans, generating ideas, or sitting with/moving through grief.My fees are calculated based on the following hourly rate sliding scale:
$66 / $88 / $111

---
This sliding scale is intended as a tool to challenge the norms of our classist and capitalist society and to offer services in a way that can better meet the range of financial situations.Any payments at the higher end of the scale directly support my ability to offer lower-cost services for others who need them.
---
To understand where you fall on this scale based on your financial resources and levels of privilege, I offer the following considerations.Consider paying the lower end of the scale if you:
are supporting children or have other dependents

have significant debt

have medical expenses not covered by insurance

receive public assistance

have immigration-related expenses

are an elder with limited financial support

are an unpaid community organizer

are re-entering the workforce and have been denied work due to incarceration history
Consider paying the higher end of the scale if you:
own the home you live in

have investments, retirement accounts, or inherited money

travel recreationally

have access to family money and resources in times of need

work part time or not at all by choice

have a relatively high degree of earning power due to level of education or gender/race/class privilege. (Even if you are not exercising that earning power, I ask that you recognize this as a choice.)
If these rates are still not accessible for your situation, please reach out and I'll see how I can help – whether through payment plans, resource referrals, or other alternative supports.If you're interested to learn more about sliding scales, I recommend resources from Ride Free Fearless Money and Worts & Cunning Apothecary, which helped to guide my offerings.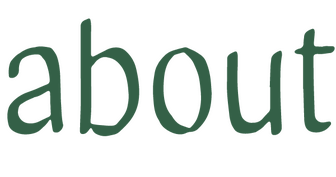 The turning wheel reminds us of life's cycles and seasons, the continuation and the changing that never stops. That our lives encapsulate the infinite cycles of our universe – night becomes day, winter becomes spring, the in breath becomes the out breath. We turn through each moment until we come to the end of our time in this bodily form. What comes next in our transformation process is a profound and sacred mystery. The turning wheel reminds us that death is also a beginning.Turning wheels carry me across the divine landscapes between my current and childhood homes – over the Cascade Mountains, through the Columbia River Gorge, across the rolling hills of the Palouse.The wheel is my maternal grandmother Margaret, an artist and potter whom I never met, but whose art fills my home. I hold her ceramics and imagine her hands on the pottery wheel, shaping the clay, finding the form, entering into the process of creation, of beginning and ending. A few years ago I began my own exploration into ceramic art and I feel the continuation of her spirit and her blood in my hands.The wheel is Corriene, my paternal grandmother. She was the grandparent I was closest with growing up and I feel her spirit in everything I do. She made rituals in the way she fed you, the way she offered a cup of tea, the way she moved her hands over the rosary. Corriene reminds me that family is who and what you make it, that we continue on through the people we love, that despite the deep grief in life, we can still move forward and tend our people and open our hearts.The wheel is Warrine, my sister's grandmother. A painter and a lover of the metaphysical, she was the reason I spent time with the ocean when I was young. We would drive the long roads to the Oregon Coast for spring break to visit Warrine with her rock and shell collections. She reminds me to watch the waves breaking on the beach, to wander the sand in search of earth-made treasures, to always ask questions about why things are the way they are.The wheel is Sueno, my partner's grandmother. She feeds us with her food and stories of family, keeping tradition with her cooking, her chanting, her shared memories. She reminds me to take the time for the phone call, to savor the sacred blessing of the stories our elders share. She reminds me of all my grandmothers; she reminds me what it is to be a grandchild, what it is to continue the story.I am the wheel – named after my grandmothers, moving through the seasons of life, finding my self and my work through each turn. Reminded by my grandmothers that we find spirit in so many forms through these lives – in art, in community, in the waters of the ocean, in the meals we share, in the laughter and the tears that we release.And you are the wheel, breathing through the seasons, through the downward movements and the upward turns, always moving through space and time.May we continue along the path, finding ourselves and each other.in love,
MaggieMargaret Corriene Thompson
MSW, Facilitator, Deathcare Educator, Celebrant
she / they
---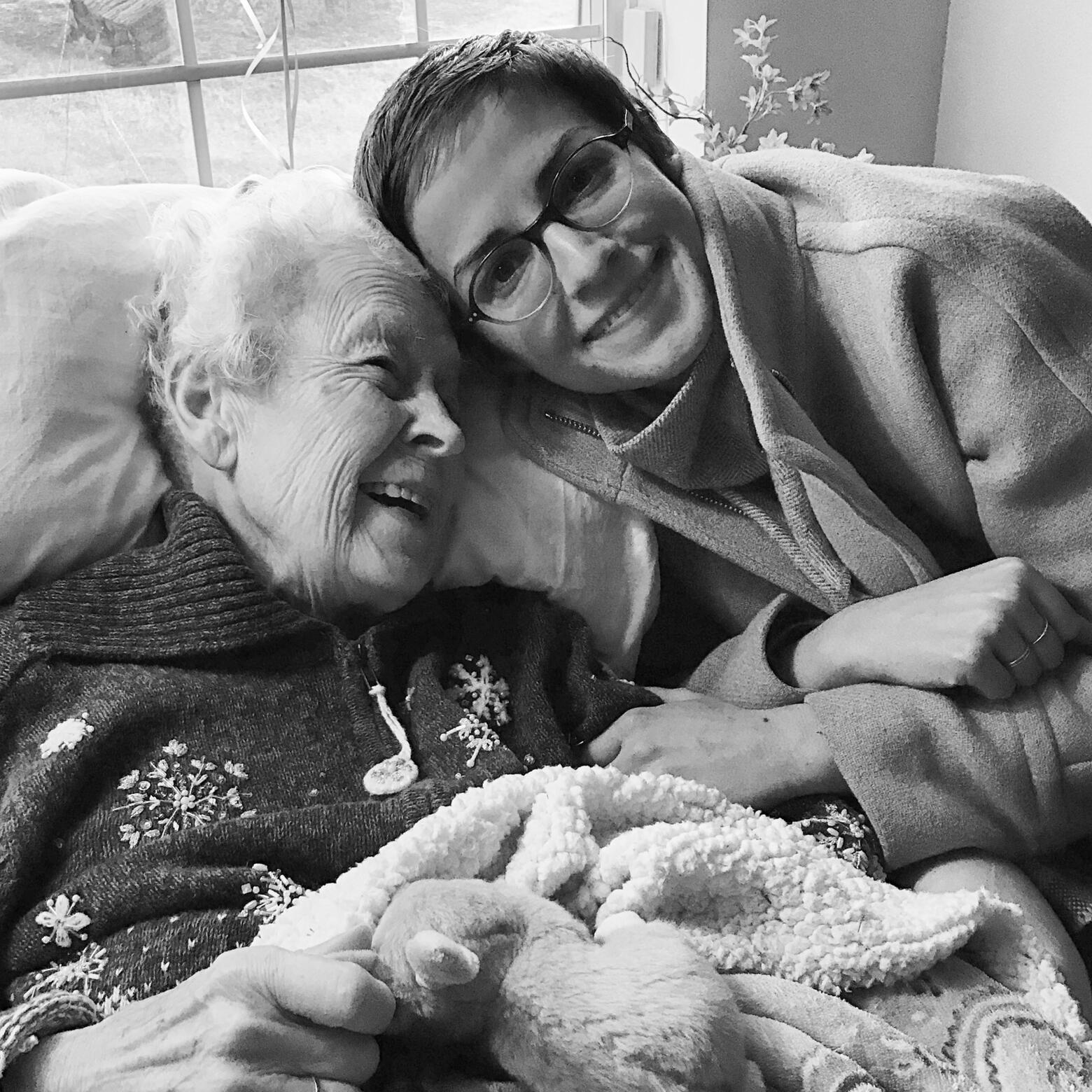 Maggie and Grandma Corriene, 2017
---
I was raised in the middle of wheat fields and open sky in the Palouse region of Washington state, the indigenous lands of the Palus people. I was raised in a family that values service, kindness, and a welcoming, curious heart. As a queer white person, my relationship to my settler ancestors is complicated – I'm forever learning what it means to feel connected to lands that were stolen and that also hold my roots and the stories of my family. I'm forever trying to understand my place in the ongoing healing processes of our communities and our world; I'm forever trying to find the most powerful ways I can take action in this work. These are some of the things that brought me (back) to deathcare.My first work was caregiving. I learned as a teenager to care for the bodies of elders who were moving through the dying process. This sacred service had a profound impact on my life and set me on a path of caregiving in many forms.Since then, in my professional life, I've stepped into many roles across a decade of caregiving work and another decade of leadership in politics and government. In my work, I am a death doula, a social worker, a facilitator, an organizer, an intuitive guide, a teacher, a student, a caregiver, a policy maker, a celebrant. I am a space holder, a listener, a counselor, and a wayfinder.I strive to center love, anti-racism and inclusivity in my work, to always learn how I can do better and show up more powerfully for the liberation of all people.I am grateful and privileged to have completed many forms of traditional education, in particular a graduate degree in social work from the University of Washington. And yet, I believe that service and care for the dying is work that comes from our hearts and our spirits, not from a degree or certificate. My greatest education has come from this service - from fellow caregivers and from all the people I've cared for.I have many other teachers – a list too long to name here – but in this deathcare work specifically, I owe my gratitude to the following organizations for their training: A Sacred Passing: Death Midwifery & Education, Going with Grace: End of Life Education & Planning, and A Sacred Moment Funeral Services.I live with my partner Greg and our old kitty, Lefty, in a little rental home in Seattle's historically Black Central District, land that is also the indigenous home of the Duwamish people.

Email using the form below or by contacting maggie@turningwheelnw.com
Subscribe to the Turning Wheel newsletter
Any monetary offerings to support this work directly contribute to my ability to offer low-cost and sliding scale services to those who need it. Any amount is appreciated. You can do so at the links below.
Please note, Turning Wheel is not a non-profit organization, so any contribution is simply a gift, not a tax-deductible donation.